The following blog article was written for Fused Finery glass studio.
Over a period of the past 3 or 4 years, I've developed a certain interest in glass and its use as a medium in the art world. I have spent time around a few lampworkers in my day, but up until this point, I have mainly been an admirer and passive observer of the art form. While I love the look and feel of glass, I have only tried my hand in the creation of glass art one time at a glass blowing studio. Recently, I decided to change this and dive into the world of glass fusion.
After noticing that a glass fusion studio had opened up in Reno earlier this year, I made the plunge and decided to call Fused Finery to schedule my very first experience working with cold glass. I signed up for their 3-hour long "Intro to Fusing" class and planned to attend the following Saturday morning. I was extremely excited to learn something new and experience a new side of glass working which I had yet to partake in.
New Skills and Glass Fusion Fun!
I was surprised to find that Fused Finery was situated in a neighborhood I called home for many of my younger years. The delightful glass fusion studio is located a block from Reno High School on the corner of Booth Street and Idlewild Drive.
Upon arrival, I met the owner Judy Joustra who showed me around the property, and the two of us began to have a wonderful conversation about art, happiness, and life purpose. When the class began, Judy explained the different types of fused glass types, viscosities, and thicknesses. It was interesting to discover that fused glass tends to find homeostasis at a thickness of 6mm, and therefore, it was ideal that we use a combination of 2mm, 3mm, and 4mm glass sheets to achieve our creative goals.
After our initial introduction to glass, we were led around the studio to study different types of art glass including different forms of frit, confetti, paint powders, dichroic, rods, and murrine. It was clear that the shop was set up for those new to the art of glass fusion, as well as seasoned veterans of the craft.
Quality Teaching & Materials
I was happy to see that all of the glasses we would be working with at Fused Finery were high-quality Bullseye Glass Company products. As a newbie glass artist, seeing that the studio was dedicated to supplying the students and artists with quality materials made me feel like I had a greater potential to create beautiful work.
After our tour, Judy taught us about "slumping" – a technique in which glass objects are placed in a kiln at varying temperatures in order to allow them to fuse and meld together. Each class participant was given a clear sheet of 3mm glass to work with as our base layer. Judy then showed us the different pieces of colored glass which we would be working with to create our first glass fusion art project.
We were given the option of using one of the various ceramic molds to base our design around and were instructed on the ways in which one would properly cut glass to form fit our artistic workspace. Finally, Judy showed us how to work with and manipulate various glassworking tools and we were set free to create our respective masterpieces.

Glass Fusion – Let's Get Creative!
I decided to work with a smaller, daintier ceramic mold as I didn't want to create something which I felt might appear gaudy when completed. My aim was to create a piece of art that I could proudly display in my own home. This was an ambitious goal for a first-time student who had never worked with cold glass, but I was feeling inspired and was ready to channel my inspiration into my art.
I selected a rippled blue sheet of glass as well as an aqua green color to make my piece pop off the clear base layer. I began cutting the glass sheets to form various random shapes and began to arrange them together. Soon, I found that I needed another color to break up the blue monotony I was feeling. I chose two small, long slices of rippled white glass to place on the top of the blue ones. I was pleased with how the colors played with each other, and I soon moved onto the wet sanding process to get rid of the sharp edges of each cut of glass.
After sanding everything, I was left with a very fluid, fun piece of art that reminded me of the abstract clothing fashion style made popular in the 1990s. I assembled everything onto my clear sheet of glass but felt like it was still missing something. Finally, I decided to add two pieces of yellow glass at the very end and the colors clashed in a beautiful way.
I was extremely pleased with the way it had turned out, and after cleaning up my work area, I was informed that my piece would be fused in the kiln at some point over the next few days and would be available for pickup the following week. I thanked Judy for her instruction and left feeling creative, inspired, and ready to take on the day.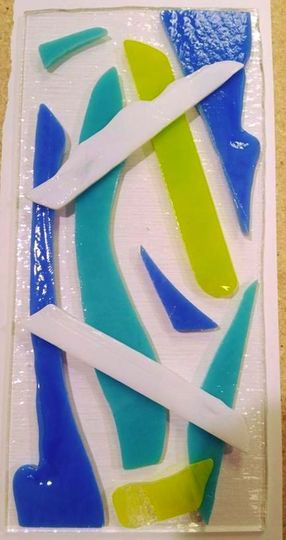 Schedule Your Visit Today!
If you're looking to try something fun, new, and creative, I highly recommend giving a glass fusion class at Fused Finery a try! This could be a wonderful opportunity to find a creative outlet or hobby to participate in.
Glass fusion classes at Fused Finery would also make a great gift for the person who has everything and would be a seriously amazing first date idea for anyone looking for something outside the bar and club scene. Forget the coffee… go play with glass!

You can find all sorts of beautiful fused glass art, or attend one of the many classes Fused Finery offers by calling 775-303-7176 or by email at judy@fusedfinery.com.
Are You Looking for Assistance with a Blog Campaign?
If you're looking for an experienced and trustworthy team to execute a successful blog campaign or press release, the staff at Wonder Web Development is here to help. We take pride in our work, care about our clients and love to see you succeed. After all, your success is a reflection on us.
Interested in learning more? Please feel free to contact the pros at Wonder Web Development for a free consultation. We can't wait to hear from you!
Naturally, you can reach us by phone at 775-527-3618 or by email at Consults@WonderWebDevelopment.com.